So last year, we had our first savings challenge. Though it was a first attempt, I was so touched and amazed by the responses I got from my followers and readers about the impact the challenge had on their savings habits and lives.  People sent me regular emails to update me on their progress.
If there is one thing I have stayed consistent with is the 52 week money challenge i got from @RookieKE 's blog.

— 🇰🇪Shortniss🇰🇪 (@_omalicha__) December 4, 2016

Due to public demand, the 52 Week Savings Challenge is back bigger and better. The rules are the same as last year. We start by saving 50 shillings next week (week 1 of 2017), then 100 bob next week, 150 bob next week and so on and so forth, until the last week of December where we will save 2,600 bob, and our savings will add up to Kshs 68,900 . The point is to add 50 shillings every week to the previous week's savings amount.
To stay accountable…
1.  Print out the 52 Week Challenge worksheet and pin it at a place that is visible. I plan to print mine on Tuesday, and it will go onto my wardrobe door. Why? To serve as a daily reminder, whenever I get the urge to buy new clothes.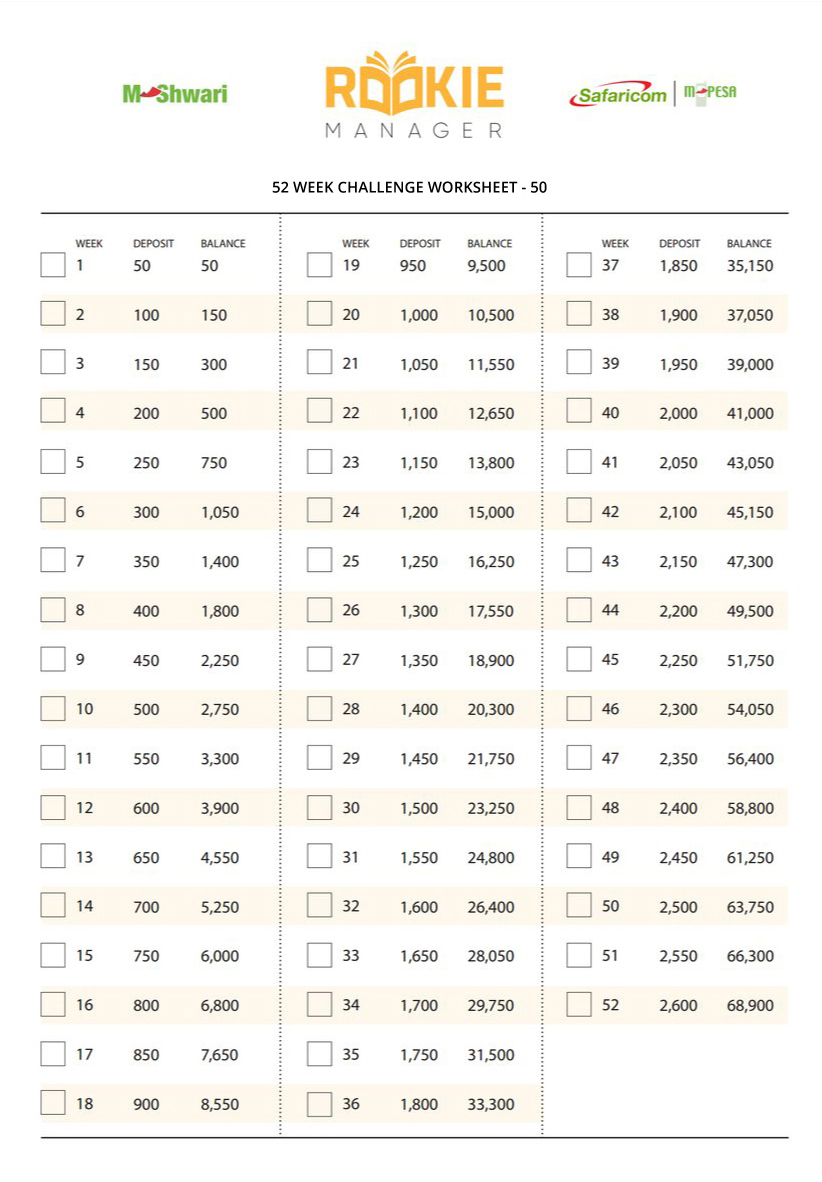 You may also download the 100 bob and 25 bob versions of the challenge if you want to go big, or go smal (Graphics for the blog and the campaign courtesy of Wit Design Kenya)
2. Save extra. May be you have had a great week and you have 1,000 bob that you would like to save, yet the weekly amount is say, 500 bob. Instead of saving 500 and spending the rest, save the entire 1,000 bob, then tick the corresponding week (Week 20).
3. You can choose to go reverse by starting with the harder weeks at the end of the year, then working your way up. HOWEVER, should you choose to do this, do not take the money out of your regular savings for this challenge, it is supposed to come out of regular spending.
4. If you can, automate. Set up a weekly transfer. Some people get piggy banks, but I am not a fan of this, because I do not live alone. I've also heard of cases where cleaning ladies slowly relieve you of your piggy bank contents without your knowledge. Many of my readers opted to use M Shwari, and they introduced me to the Lock Savings account, where you lock your savings for a designated period. A brilliant way to build up savings.
5. Can you do it monthly? Well, if you want to you can, but the risk is that you will end up reducing your regular savings so you can do the challenge. Also, it stops being something you actively and consciously do!
Finally, tweet us using #52WeekChallenge hashtag, tweet me, and check out this list! You are not in this alone, so when you feel discouraged, holla. Also, join our Telegram Group. We intend to have fun!
Good Luck!